Find approved charging point installers in Cambridgeshire
Below we list some local electric car charging point installers all of whom meet the following criteria:
They are accredited by OZEV for EV charging points
They have been trained to install at least one model
Together, these EV charger installers offer a variety of electric car chargers
Get the right EV chargepoint for your home by EITHER clicking on the Rightcharge rectangle in the side column, OR by visiting one of the local companies listed at the bottom of the page.

These installers can cover all the main Cambridgeshire towns, cities, and surrounding areas, including:
Peterborough
Cambridge
Wisbech
St Neots
Huntingdon
March
Ely
St Ives
Whittlesey
Chatteris
Yaxley
Soham
Cambourne
Littleport
Histon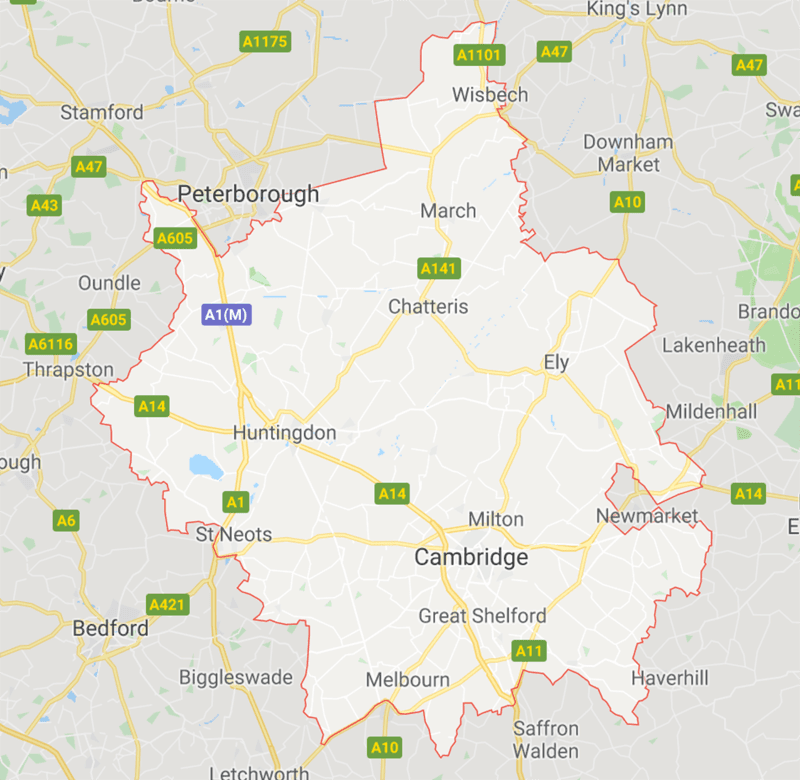 Do your Research
Double-check installers are accredited by OZEV (old name OLEV)
You can find the official list of accredited installers on the OZEV website.
In addition, in order to receive the £350 grant, your charging point must also be approved by OZEV aka OLEV. Check the charger you are interested in is on the approved list.
If the installation company doesn't have both accreditations (installer and charging point), then your installation won't be eligible for the grant. Having said that, it's the installer that has to make the claim for the £350, so you should be fine either way.
The eligibility criteria for the grant are much tighter nowadays anyway, so you may not be able to get the grant at all.
Full government information about the grant can be found here. It used to be called the Electric Vehicle Homecharge Scheme (EVHS), but is now simply entitled the 'EV chargepoint grant'.
How long does the EV charger installation take?
An electric car charger installation typically takes just a few hours.
Sometimes the EV charger installation company will visit first to work out a suitable location for the chargepoint, and then decide with you on an appropriate cable run. In this way, on the charger installation day, everything should run nice and smoothly.
Alternatively, the installation company won't visit in advance and typically you will be asked to use your smartphone or tablet to take various photos and answer a few questions. This process can be a pain, but it's necessary. You should then receive an accurate quote and can decide whether you wish to proceed with that installer or not.
Charging Point Makes and Models
The installers below cover most of the popular chargepoints, such as Myenergi Zappi, EO Mini Pro 3, Ohme Home Pro, Indra Smart Lux and Pro, Pulsar, Easee, etc. There are however many other brands and models, and different connector plugs, and if you set your heart on a particular one, ask your local installers if they can source the one you want.
For a comprehensive overview of charging points and how they complement an electric car, please see our main Charging Points page. In a nutshell, get a 7.4 kW home charger and switch to an EV-friendly off-peak or type-of-use smart tariff.
Charging Point Installers List