There are many different types of solar panels – find the right ones for your home
When you go through your three solar panel quotes, you may come across several types of solar panels.
Which ones do you choose?
What's the difference between them?
The guide below takes you through all the key points.
Polycrystalline v. Monocrystalline Solar Panels
There are two main types of solar panels: polycrystalline and monocrystalline (also written as poly-crystalline and mono-crystalline).
Your quotes should state whether the proposed panels are polycrystalline or monocrystalline.

Polycrystalline
Polycrystalline solar panels, also known as multicrystalline solar panels, are the most common form of panel in the world.
They are relatively cheap to produce.
Polycrystalline solar panels consist of thin silicon wafers made of tiny crystals. Up on your roof, they have a blue-ish tint.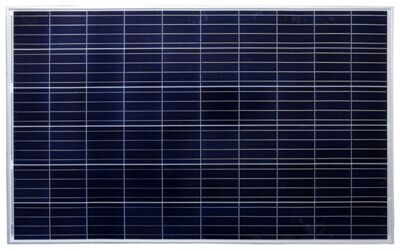 Monocrystalline
Monocrystalline solar panels are also made of thin silicon wafers.
However the silicon is purer and consequently harder to manufacturer. This makes monocrystalline solar panels more expensive than polycrystalline solar panels.
On your roof, they look distinctly blacker than polycrystalline panels.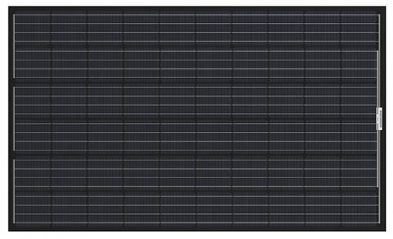 Which type should you choose?
All things being equal, monocrystalline solar panels are superior to polycrystalline panels.
They have higher grade silicon and are generally more efficient.
Most people prefer their black colour on the roof to the blue colour of polycrystalline panels.
The price difference between these types of solar panels is now quite small – tell your solar installer you want monocrystalline panels, unless you like panels which are bluer in colour.

Power Rating in Watts
The next key item to consider is the panel's power output rating in Watts.
If you think 'Watt' should be spelt 'What', please read our energy terminology page.
The solar panel power output rating tells you how much power the panel will supply when the sun is shining on it.
Commercially available panels nowadays range from 330W all the way up to a massive 600W and above. Most solar panel systems on domestic rooftops in 2023 will have panels in the 330W to 420W range.
Better to have a higher rated panel? Not necessarily. See the next section on 'efficiency'.

Solar Panel Efficiency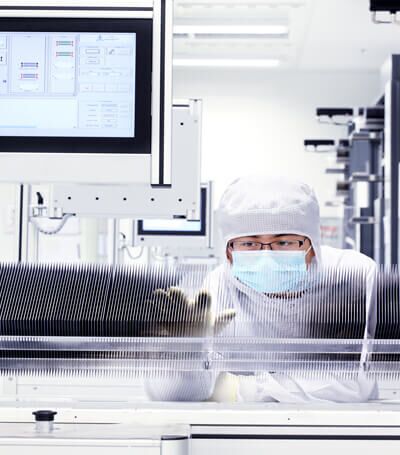 Solar sales people will often bang on about solar panel efficiency: "Our panel is the most efficient", "It's 19.3% efficient", etc.
But what does efficiency mean for a solar panel?
Efficiency: The Basics
In a nutshell, efficiency for a solar panel is simply the ratio between the panel's surface area and its power output.
For example, a typical solar panel now measures roughly 1m by 1.75m (although panels are gradually getting longer). The surface area is therefore 1.75m2 (1 x 1.75).
A solar panel rated at 330W and with a surface area of 1.75m2 is 18.9% efficient.
However, a panel rated at 400W with the same surface area is 22.9% efficient.
The 400W panel can generate more electricity from the same surface area as the 330W panel. The 400W panel is therefore more efficient.
Do I want a More Efficient Solar Panel?
It depends. It's important to note that higher capacity, higher wattage panels are more expensive.
Consider this:
You have a large south-facing roof. It can take 20 panels easily. Tons of space.
One solar panel installer comes to you and says, "Let's fit 10 really high efficiency panels on. We'll use 420W panels. It'll create a 4.2 kWp solar panel array. That will cost £8,000."
A second installer visits the next day and says, "You've got a big roof. No need to use expensive high capacity panels. Let's go for 13 solar panels rated at 330W. That will give you a 4.29 kWp system. The cost is £7,500."
Why pay £8,000 for a 4.2 kWp system when you can pay £7,500 for a pretty much identically sized 4.29 kWp system?
If you have the roof space, getting cheaper lower efficiency panels sometimes make sense. Explore different types of solar panels with the salespeople and ask them to justify their choice.

Solar Panels Colour
As we discussed in the Polycrystalline v. Monocrystalline section above, polycrystalline panels have a blue tint and monocrystalline panels are generally much darker, closer to black.
However, that's just the colour of the solar cells you see on the front of the panel. There are in fact three colour areas to think about:
The cells on the front of the panels,
The 'backing sheet' the cells are mounted on, and
Finally the frame of the solar panel itself.
Here are the permutations:
Solar cells can be blue or black,
The backing sheet is either white or black, and
The frame is either silver or black.
Traditionally, polycrystalline solar panels have had blue cells, a white backing sheet, and a silver frame. This is a common site on UK rooftops.
Nowadays, some polycrystalline solar panels have a black frame instead of silver.
Monocrystalline panels nearly always have a black frame, and then either a white backing sheet or a black one.
The most aesthetically pleasing panels for a residential house are now perceived to be 'all black'. This means black monocrystalline cells, a black backing sheet, and a black frame.
Interestingly, though, the very highest efficiency solar panels are all monocrystalline with a black frame, but with a white backing sheet.
Please be aware: even so-called 'all black' panels are not completely black. If you look closely, you will see variations in colour. You will also notice lines of silver which transport electricity around the panel.

Warranty on Solar Panels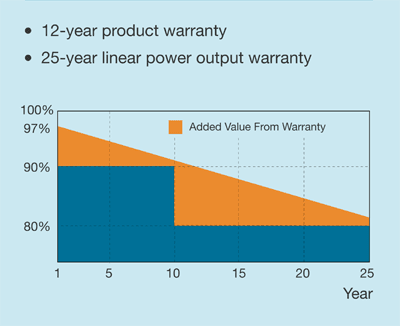 The types of solar panels you are presented with may well vary in terms of their warranties.
There are generally two warranties to keep an eye on:
The Product warranty, and
The Performance or Output warranty.
Solar Panel Product Warranty
This can often be 10 or 12 years. But now there are some reasonably priced manufacturers that routinely offer 20-25 years which is really good.
So, for a solar panel with a 12-year product warranty, if the panel fails within 12 years, the manufacturer will either give you a new one for free, or compensate you in some way, e.g. by giving you a cash payment.
There are some manufacturers that give much longer product warranties. For example, SunPower offers a remarkable 40-year product warranty on their panels. SunPower panels are however noticeably more expensive.
Solar Panel Performance Warranty
This is usually 25-30 years. But what is a performance warranty?
Basically it's a guarantee of how well the solar panel will convert sunlight into electricity in the future.
Solar panels degrade over time. A panel rated at 400W when purchased will behave more like a 340W panel after 25 years.
This degradation over time needs to be controlled by the manufacturer. The solar cells must be of sufficient quality not to degrade too quickly.
Most of these performance warranties are for 15-20% degradation over 25-30 years. Of course you have to be around in 25 years to check if it's more or less than 15%!
What Length of Warranty do I Want?
Generally, the longer the warranty, the better. Both for product and performance.
However, you should also think about how robust the manufacturer is.
A 20-year warranty from a fragile company is not worth as much as 12-year warranty from a giant multinational company with very deep pockets.

Country of Manufacture
This can be a contentious area.
Many UK customers interested in solar panels tell the salesperson: "Whatever you do, don't give me panels made in Asia – I want European-made panels."
The same customer will usually have an Apple iPhone (made in China) or a Samsung smartphone (made in Korea) in their pocket.
Customers are often happy to have all manner of Asian-made products around their house (TVs, radios, clocks, calculators, computers, and so on), but – illogically – seem to fear solar panels made in Asia.
There is nothing to fear. Solar panels are now a very mature product and produced in their hundreds of thousands in gleaming factories. The main countries of manufacture include China, Singapore, Vietnam, Malaysia, the Philippines, Taiwan, South Korea, India, and Japan.
There are still one or two manufacturing facilities left in Europe, such as SolarWatt in Dresden, Germany, but their panels are quite expensive.
In conclusion: there are many types of solar panels made in factories all over Asia. As long as you choose the right wattage for your situation, and are happy with the colour, you will be fine. If in any doubt, do some due diligence on the manufacturer.