Battery storage allows you to capture electricity when it's cheap – or free – to use later in the day or at night
Battery storage is normally combined with solar panels.
A solar panel system will generally produce more electricity than you need. If you don't use it, the solar electricity flows off to the National Grid and is lost.
With battery storage, you can capture this surplus solar electricity.
You can then draw on it later in the day or at night, either to charge your electric car or power devices in your home.
Now, with smart electricity tariffs, battery storage can be installed even without solar panels. You can charge your battery at night at a very cheap rate, and then use the stored electricity during the day, to avoid paying high daytime rates.
New applications for storage are developing fast. For example, a few solutions now allow you to share your energy with a wider community and even help stabilise the grid.
Battery storage is also sometimes known as solar battery storage or just energy storage.

Do I need battery storage? Read our 4-step guide:
To help you decide whether you want or need battery storage, we have written a 4-step guide: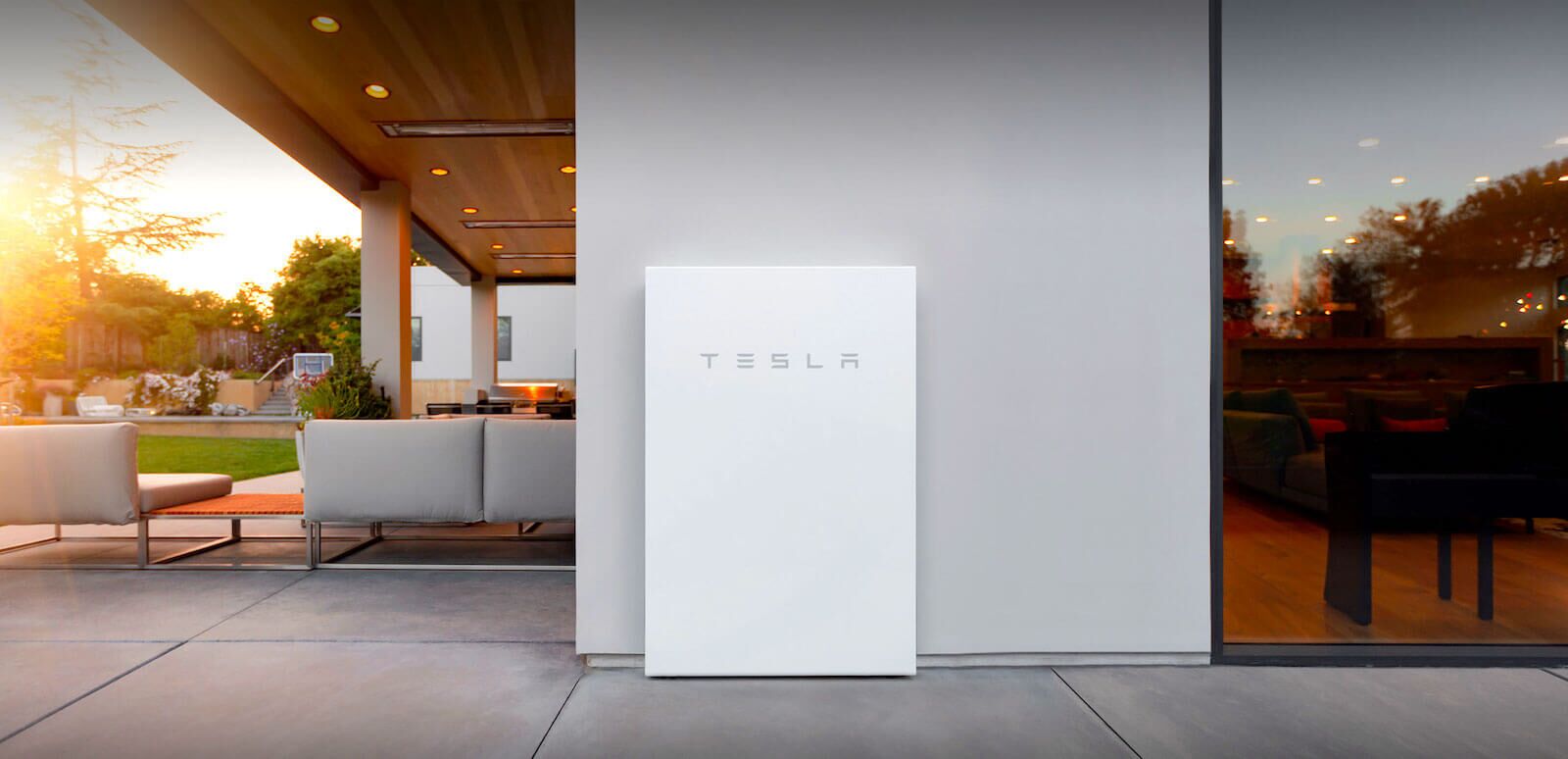 1. How Battery Storage Works
It's all in the name. Battery storage allows you to store electricity in a battery.
The question is: why on earth would you want to do that?
Why do battery storage products exist?
The main answer lies in the fact that the value of electricity changes during the day.
For example, if you look at your electricity bill, you will often see a day rate and a night rate. The day rate might be say 33p per kWh and the night rate 10p.
Why is this? It's economics – the law of supply and demand. There is greater demand for electricity during the day, so the price is higher. In the middle of the night when everyone is asleep, there isn't much demand for electricity and the price is lower.
With battery storage, you can exploit the economics of energy pricing to your advantage, as follows:
With solar panels, you can charge your home battery for free. The rays of the sun don't cost you anything. The sun will happily create free electricity via your solar panels and this solar electricity can be stored in your home battery. You can then let this zero cost electricity out of the battery at any time, e.g. to charge your electric car or power devices in your home.
Or, you can charge your home battery with cheap night time electricity at 10p. During the day, you can then avoid the 33p day rate by discharging your battery with the electricity you bought at 10p. A handy saving.
The basics of battery storage
Your home battery will probably be installed downstairs, as they are heavy. Loft or attic installations are possible for smaller batteries.
The storage will be mounted either on the floor or on the wall, usually indoors. Some battery products can also be installed outside.
The battery is then connected up to your fuse board. If you look at your fuse board, you will see a new trip switch labelled something like 'Battery' or 'Battery Storage'.
Batteries connected directly to your fuse board are known as 'AC-coupled'.
Once the battery is connected up to the fuse board, it can do two things:
Receive electricity = charging, and
Deliver electric to the fuse board = discharging.
Charging can either be from electricity coming from your solar panel system, or from cheap rate electricity.
Discharging allows electricity to flow out of your battery into your home (via the fuse board), either powering any devices turned on or charging your electric vehicle through its charging point.
How does a battery know when to charge and when to discharge?
Battery storage is actually pretty dumb. It's a lump of lithium-ion and has no idea what to do.
The solution is to connect the battery to a 'brain', sometimes known as a BMS (= Battery Management System) or a gateway.
The BMS is then in turn connected via clamps to:
The main electricity cable coming into your house from the grid, and
The electricity cables coming from your solar PV system (if you have one).
With the clamps in place, the battery brain is able to monitor all the important electricity flows around the house. For example, it can see how much solar electricity is being generated. It can also tell if electricity is being imported from the grid.
Charging your battery with solar panels
In the day time, if there is more solar electricity than the house needs, the brain will sense this and divert the surplus solar electricity to charge the battery. The brain doesn't let this excess solar electricity escape to the grid.
If, on the other hand, there is not enough solar electricity to charge all the devices turned on in the house, then the brain will tell the battery to discharge electricity to meet as much of the shortfall as possible.
As long as there are devices turned on in the home, calling for electricity, the battery will keep discharging until it is almost empty. It will then wait until there is surplus solar electricity again in order to recharge.
Charging your battery with cheap, off-peak electricity
It's also possible to charge your home battery storage with off-peak electricity.
There are still Economy 7 tariffs available with a cheap night rate. There are also many other modern tariffs available, designed for customers with solar panels, electric cars, and batteries. Take a look at our Smart Meter Tariffs page for more details.
These smart tariffs usually come with a smart meter. The smart meter keeps track of energy flows and the time of day, and allows the energy company to charge you different rates at different times of the day.
How much electricity can a battery store?
Battery storage varies enormously in size.
There are batteries available as small as 1.2 kWh and as big as 22 kWh and more. If you've no idea what 'kWh' stands for, please read our Energy Terminology guide.
Most home battery storage is in the range of 2.5 kWh to 15 kWh.
The size you need depends on several factors, including:
How large your solar panel system is (if you have one).
The amount of electricity you need in an average 24-hour period.
How much money you have to spend.
When you get three companies in to quote for battery storage (see below), ask them to justify the size of battery they recommend.
Power Output
Not all batteries are created equal. Some can discharge power at a high rate, e.g. 4-5 kW. Others only at a low rate, e.g. 1 kW. This is basically about how quickly you can get that stored electricity out of your battery.
Let's say you want to have a cup of tea. You have a fully charged battery and would like the stored battery energy to power the kettle.
A typical kettle is rated at 2.5 kW. If your battery has a power output (or discharge) rating of only 1 kW, it will not be able to boil the water. It will deliver 1kW to the kettle, but grid electricity will make up the 1.5 kW shortfall.
On the other hand, if your battery has an output rating of 5 kW, it will be able to power the kettle nicely (5 kW is greater than 2.5 kW). A perfectly green cup of tea. Well, we don't mean necessarily green tea – it can still be black tea, builders' tea, whatever you like.
Back-up Power in a Power-cut
It's the day after a big storm. You wake up and turn the light on. Well, you press the light switch, but nothing happens. You've had a power-cut.
If you have a diesel generator, you turn it on, and electricity flows back into your house. You put up with the noise and diesel pollution for the comfort of being able to function normally.
There is another way: battery storage.
Some home batteries, if set up correctly, can provide back-up power in the event of a power-cut. If the battery is big enough, it can power the whole house for a certain amount of time (until the battery runs out). Often, however, the battery is wired into your 'essential circuits' for back-up power. This allows the battery to work for longer, powering the devices that you absolutely need, e.g. fridge/freezer, lights, some sockets, etc.
Not all batteries offer back-up power. Check the data-sheet, and ask the installer and manufacturer.
Also, having back-up functionality often requires a device called a 'relay' to be installed. This electronic device cuts your house off from the grid during a power-cut. It's like an automatic switch. Being cut off from the grid in this way is known as 'island mode' or 'off-grid mode'. Many modern battery solutions have built-in relays.
Once in island mode, the battery can function safely and power your home. If you weren't cut off from the grid in this way, your battery could in theory spill electricity into the grid and injure someone working to restore power.
The other major advantage of a relay putting you in island mode is that your solar PV system will carry on working. Normally in a power-cut your solar inverter has to switch off by law. When cut off from the grid by the relay and while the battery is supplying electricity, the solar inverter thinks the grid is still up and will continue to function, supplying extra (solar) electricity to your home.

2. Ten Reasons to install Battery Storage
If you've read the section above, you will already have a feeling for what battery storage is and how it can help you.
Now read these 10 benefits of battery storage and see what you think:
Battery storage captures your surplus solar electricity that would otherwise be lost to the grid.
It allows you to use (stored) solar electricity when the sun isn't shining or at night.
A battery can store cheap off-peak electricity and discharge it when prices are high.
Battery storage helps you charge your electric car with 100% renewable energy (when combined with solar).
If you have enough battery storage and solar panels, you can be almost completely independent of the grid.
When configured correctly, certain batteries can power your home, or part of your home, in a power-cut.
Some batteries are 'smart grid ready', meaning you might be able to earn money by exporting power to the grid.
Combined with solar panels, batteries help you reduce your carbon footprint.
Batteries and solar keep your electricity generation 'local' – if everyone did it, we'd need fewer, far-away power stations.
If you have the 'magic four' – electric car, charging point, solar panels, and battery storage – you are a full member of the modern energy revolution.
Are any of these points attractive to you? If you're tempted, read on…


3. Explore Battery Storage Products
There are already many battery products available in the UK, with more arriving all the time.
The technology has been around for a few years now and certain manufacturers are gaining a solid reputation. Factory production quality is improving, warranties are getting better, customer service departments have more UK staff, the battery management systems are getting smarter, and so on.
The cost of battery storage generally varies in relation to storage capacity. An 8 kWh battery will cost more than a 4 kWh battery. This is certainly true when you compare different models from the same manufacturer. Here is a list of some of the main battery manufacturers with products available in the UK market. Click on links to manufacturer websites or in a couple of cases to our reviews:

4. Find a Battery Storage Installer
If your appetite has been whetted, and you're keen to get some proposals for battery storage, it's time to speak to some local installation companies.
Remember: always get three quotes. Assuming prices are similar, dig a little deeper on Checkatrade, ask for references, etc. Sometimes it's better to pay a little more if you feel comfortable with a particular company.
Ask the installers to justify the make, model and storage capacity of the battery they recommend. There is no point in having more capacity than you need.
Having said that, if you might want to store more electricity in the future, e.g. if you plan to buy an electric car, you could invest in more storage than you require at the moment.
Click on your county name to find local installers (Scottish and Welsh counties coming soon!)