Solar panels provide clean, green electricity for your home. They can also charge your electric car.
Solar panels that generate electricity are known as solar 'photovoltaic panels', or solar PV panels for short.
With solar panels on your roof, you have two electricity supplies. The first is your normal connection to the national grid. The second supply is your solar panel system.
A solar panel system is an ideal companion for an electric car. During daylight hours, the panels generate electricity which flows into your home. If your electric vehicle is plugged in, some of the free solar electricity will go into your car's battery.
If your EV is away from the home during the day, you can install battery storage. This will capture surplus solar electricity generated while the sun is shining. You can then use that stored energy to partially charge your car when you get back home, or power devices in your home, or both.
Solar panels are very robust. They can generate electricity for years to come. That's why NASA sends them into space to power satellites, probes and rovers. They also don't need servicing. Just a clean now and again if they get dirty.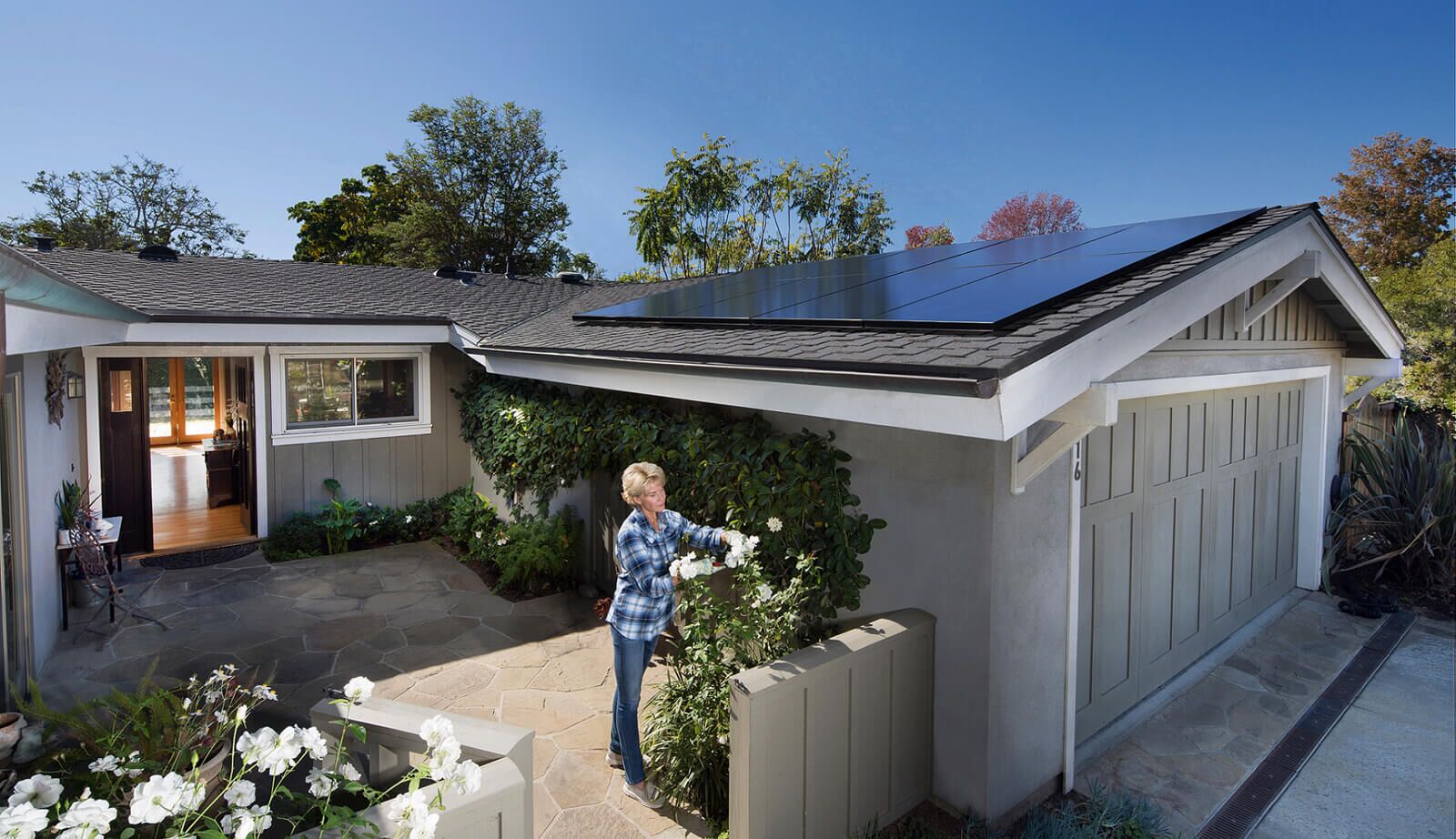 1. How a Solar Panel system works
Here is a simple explanation of how solar panels provide electricity for you to use in the home:
Solar Panels
Solar panels are fitted to your roof, or sometimes mounted on the ground.
The panels automatically convert sunlight into 'DC' electricity.
Your house runs on 'AC' electricity.
The DC electricity from the solar panels therefore needs to be converted to AC electricity before you can use it.
Inverter
An 'inverter' is installed to convert DC electricity into AC electricity.
Basically, DC electricity from the panels goes into the inverter and AC electricity comes out.
Fuse Box
The AC electricity from the inverter is then routed to your fuse box.
Once at the fuse box, the solar electricity 'looks' for somewhere to go.
If you have an electrical device turned on in your home, the solar electricity will go from the fuse box to that device.
In this way, the device is partially or wholly powered by electricity generated by your solar panels and not totally dependent on electricity from the national grid.
Importing Electricity
Electricity will only be imported from the national grid if the amount of electricity you need in the home is greater than the amount of electricity being produced by the panels.
Exporting Electricity
If, on the other hand, the amount of solar electricity is greater than the amount of electricity you need in the home, then the surplus solar electricity will be exported to the national grid (unless you have battery storage – see below).
All of the electricity flows above happen automatically – no human intervention is required.
Electric Car
If your electric car is plugged in to its charging point, then the car will look like any other electric device in the home and solar electricity will flow to it.
Battery Storage
If you also have battery storage installed, any excess solar electricity will automatically be stored in the battery, rather than escaping to the national grid.
Heating your Water
There's even a further way of capturing excess solar electricity. If you have an immersion heater in your water tank, spare solar electricity can be diverted to the immersion. In this way, solar PV panels can heat your water.
If you want more excruciatingly boring details about solar panel energy terminology, read our handy guide. Guaranteed to send you to sleep.
You can also find plenty of information about the various different types of solar panel on our Solar Panel Types page.
Explore Manufacturers
Solar panel and inverter manufacturers also provide huge amounts of information about how their products work and solar energy in general.
On our manufacturers' page, you can find links to all the main manufacturer websites for both solar panels and inverters available in the UK.

2. Ten Reasons to install Solar Panels
Now that you're an expert in solar PV technology, it's time to assess whether a solar panel system is the right option for you and your home.
If you find yourself agreeing with the majority of the points below, then having solar panels installed may well be the right course of action.
I would like…
To import less electricity each month from the national grid.
My monthly electricity bills to be lower.
To generate my own electricity from a free resource: the sun.
To be protected against rising energy costs.
My electric car to be charged by the sun.
To reduce my carbon footprint.
To have an electricity generating system that will last for decades.
To store free electricity in a home battery and/or to heat my water.
To enhance the value of my house by making it cheaper to run.
To go green!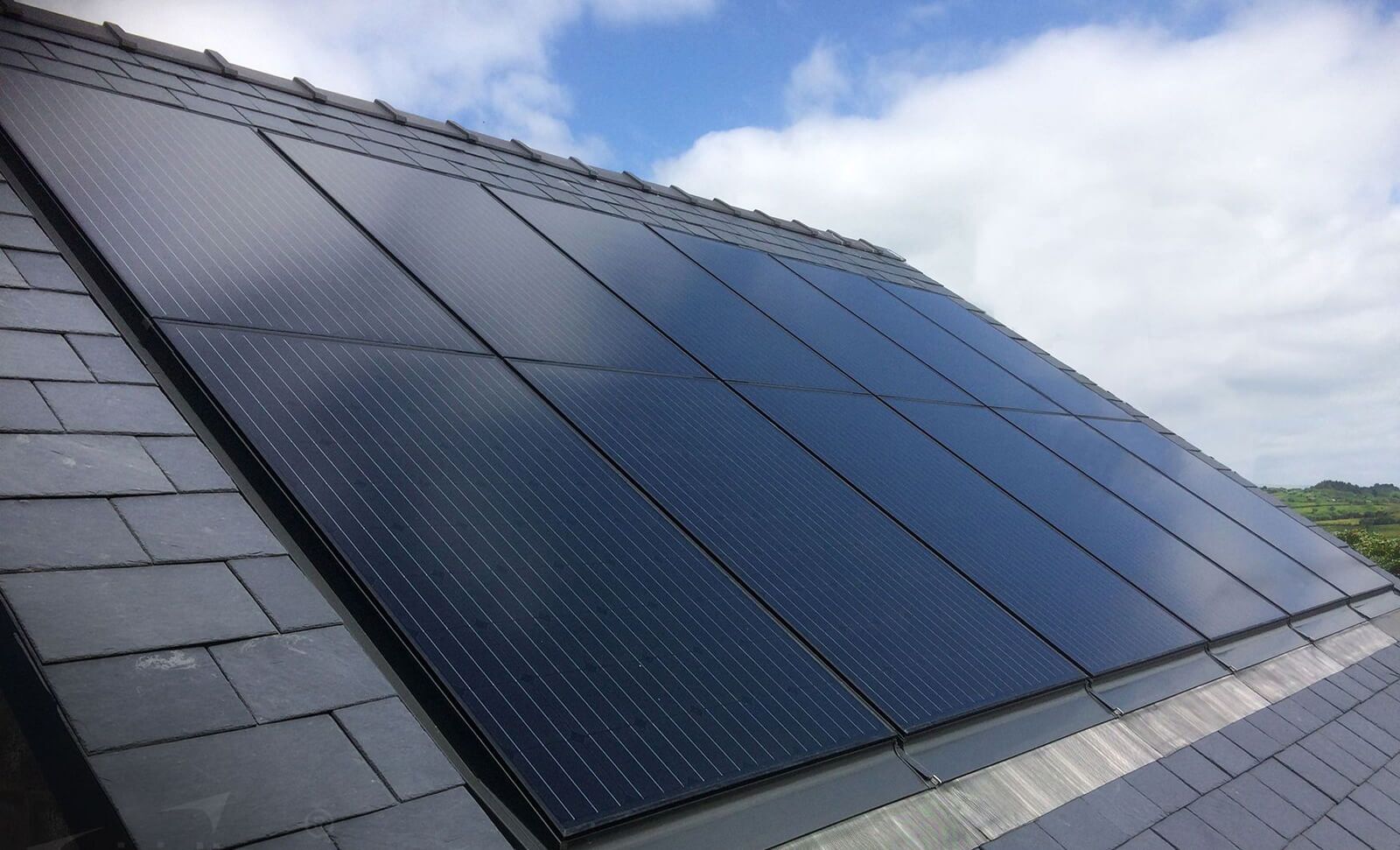 For most people, deciding to get solar panels is partly a financial decision and partly an emotional one. Fortunately, well-priced solar PV systems should give you a solid return on your investment in any case, which means the warm, fuzzy, green feeling comes as a free bonus.
If you do have an electric vehicle, or if you get one in the future, you will notice your electricity bill goes up. Your 'fuel' costs are still much lower than they would be with a petrol or diesel car, but nonetheless your home electricity costs will be higher.
Solar panels are a way of getting the bills back down again. You produce your own solar electricity which can charge your car battery as well as other electric devices in the home, rather than importing the electricity from the grid.
Battery Storage
If your electric car is normally away from your home during the day – for example if you drive it to work – then you might want to have battery storage installed alongside your solar PV system.
The battery will capture excess solar electricity generated during the day and then send it to your car's battery when you plug in after work.
Some of the newer EVs such as the Audi Q8 e-tron, the Kia EV6 and the BMW i7 have very big batteries. You won't fill them entirely with a day's solar electricity, but at least your driving carbon footprint will be lower.
For an overview of how all these renewable energy technologies fit together, see our home page.

3. Find Local Installers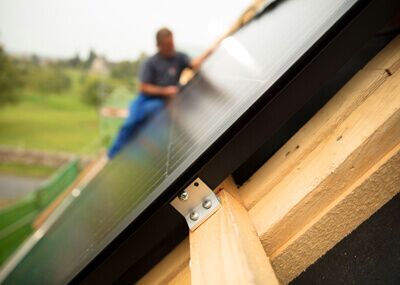 If you have now convinced yourself you probably do want solar panels, it's time to get in touch with some local installers.
It's always wise to get three quotations from local, competent installers. Three quotations allow you to compare and contrast. Using the data on this website and the information in the quotations, you should be able to hone in on the right proposal.
There is a risk, though, just looking at the proposal itself. A solar panel system is a physical installation – it's not a piece of paper or a PDF. How the solar panels are installed and the care the roofers and electricians take are just as important as the price you pay and the technology you choose.
How can you tell if an installer will do a good job? We would recommend you:
Ask for contact details of three previous customers in your area and phone each of them up.
Read reviews about the installer on Checkatrade. If the installer does not have a Checkatrade profile, or equivalent, this may be a warning that they have something to hide.
You can also look at Trustpilot and Google Reviews.
Make sure they are listed on the Microgeneration Certification Scheme (MCS) website as an installer.
Check they are also members of the Renewable Energy Consumer Code (RECC) or the Home Insulation & Energy Systems Contractors Scheme (HIES).
To really guard against selecting a rogue trader by mistake, read our "Pitfalls to Avoid when Choosing a Solar Panel Installer" guide.
To ensure you don't over-pay, read our article on How Much Solar Panel Systems Cost.
If you are keen to discover what actually happens on installation day, please refer to our "How a Solar Panel System is Installed" page.
Finally, to help you find local installers, please select your county from the list below. You will be taken to a page listing some MCS-accredited installers in your county.
Click on your county name to find local installers (Scottish and Welsh counties coming soon!)