Tesla Powerwall is still the best battery storage product available in the UK in 2023
The current Tesla Powerwall UK version, also referred to as Tesla Powerwall 2, is manufactured by the American company, Tesla, Inc.
It allows you to:
Store excess solar electricity for later use
Store cheap, off-peak electricity for later use
Power devices in your home
Charge your electric car
Have power in a power-cut, with the Backup Gateway 2
Keep your solar PV system working in a power-cut, with the Backup Gateway 2
The very latest version of the battery – Tesla Powerwall 3 – is already out in the USA and coming over to the UK in 2024. More details below.
Tesla, Inc.
The company Tesla has become a house-hold name together with the likes of Google, Amazon, Uber, Facebook, Apple, etc.
Its CEO, Elon Musk, is a pioneer of several industries, including electric vehicles, battery storage, space exploration, and – bizarrely – drilling tunnels.
Tesla built the first, famous Gigafactory in Nevada, USA. It's an absolutely massive factory that churns out batteries as fast as they can make them for both the Powerwall and Tesla electric cars. Now there are Gigafactories all over the world, and more and more consumers are able to benefit from Tesla's battery tech every year.

Tesla Powerwall Versions
Tesla has designed four versions of the Powerwall so far.
The first, Powerwall 1, has been discontinued and it's the second one, Powerwall 2 (launched in 2016), that is currently on sale in the UK.
However, the third version, Powerwall+, was launched in the USA in 2021. It comes with an integrated solar inverter. This means you don't need an additional inverter if you get a solar panel system installed. This version never reached UK shores.
The Tesla Powerwall 3 UK release date has not been set yet, but is likely to be sometime in 2024. It came out in the USA in September 2023 and does have an integrated inverter for solar panels. Here's a summary of the different versions:
| | | | |
| --- | --- | --- | --- |
| Version | Date introduced | Storage capacity | Solar inverter? |
| Powerwall 1 | April 2015 | 6.4 kWh | No |
| Powerwall 2 | October 2016 | 13.5 kWh | No |
| Powerwall+ | April 2021 | 13.5 kWh | Yes |
| Powerwall 3 (USA) | September 2023 | 13.5 kWh | Yes |
| Powerwall 3 (UK) | 2024 | 13.5 kWh | Yes |
The Tesla Powerwall 3 price in the UK is likely to be higher than the cost of the current Powerwall 2, due to the extra cost of the solar inverter.
For more background on the characteristics of all of the Powerwall versions, take a look at the Tesla Powerwall Wikipedia page.

Powerwall 2 v. Powerwall 3
What's the difference between the Powerwall 2 and the Powerwall 3?
The main differences between the two versions are as follows:
The Powerwall 2 is AC-coupled only, whereas the Powerwall 3 can be wired up either as AC-coupled or DC-coupled. What does this mean in practice? AC-coupled batteries are wired completely separately to your solar panel installation. DC-coupled batteries, by contrast, receive electricity directly from the solar panels. This results in lower electrical losses: 97.5% efficiency with the Powerwall 3 compared to 90% efficiency with the Powerwall 2.
The Powerwall 3 has its own 'hybrid inverter' inside the unit. Having a hybrid inverter is what makes it 'DC-coupled' enabled. Basically, the hybrid inverter has two functions: (i) to convert DC electricity from the solar panels into AC electricity (while the sun is shining on the panels) so that you can use that electricity in the home, and (ii) to convert the DC electricity stored in the battery (from surplus solar electricity) into AC electricity, as and when the home needs more electricity.
The Powerwall 3 has a very high-power output rating of 11.5 kW compared to the Powerwall 2's 5 kW. This means it can power more devices in your home simultaneously, without needing to draw energy from the grid.
The table below shows a side-by-side comparison of the key features of both batteries:
| | | |
| --- | --- | --- |
| Version | Tesla Powerwall 2 | Tesla Powerwall 3 |
| Storage capacity (useable) | 13.5 kWh | 13.5 kWh |
| Wiring | AC-coupled only | DC-coupled or AC-coupled |
| Solar inverter? | No | Yes |
| Solar inputs (MPPTs) | n/a | 6 |
| Power output (continuous) | 5 kW | 11.5 kW |
| Height x Width x Depth | 1,150 x 753 x 147 mm | 1,098 x 609 x 193 mm |
| Weight | 114 kg | 130 kg |
| Warranty | 10 years | 10 years |
If you already have a solar panel system and want to retrofit a Tesla Powerwall, the Powerwall 2 still makes sense while stocks last, as you already have a functioning solar panel system and there's no need to interfere with it.
If you're getting a new solar panel installation and don't require specialist shade mitigation and panel monitoring technology like SolarEdge power optimisers, then you can wire up directly to the Powerwall 3's integrated solar inverter. This would be an DC-coupled set-up. As the integrated inverter has 6 inputs, this arrangement still mitigates any shading you might have – such as a tall tree to the south of your panels – quite successfully.
If, on the other hand, you do want advanced inverter tech like SolarEdge, then you would wire up the Powerwall 3 independently of the solar panel system. This would be an AC-coupled installation.

Powerwall Battery Cells
The Powerwall 2 uses a Lithium Nickel Manganese Cobalt Oxide (NMC) chemistry which provides more energy density in less space.
Each battery cell has its own temperature management system that keeps the battery at an optimum working temperature.
The Tesla Powerwall 2 can therefore be mounted either internally in your home or on an external wall exposed to the elements. It's water and dust resistant to IP67 standard (IP56 for the wiring compartment), and works down to minus 20ºC.
Not all battery products currently available in the UK can function properly below freezing. So, if you have limited suitable wall space inside your home for battery storage, the Powerwall is a great choice for external mounting.
It's possible the new Tesla Powerwall 3 may change to a Lithium Iron Phosphate (LFP) chemistry mix. Why? Because it's cheaper to make and avoids Cobalt which is not always ethically mined. LFP makes the battery a little heavier, but this isn't an issue if it's professionally mounted on the floor or wall.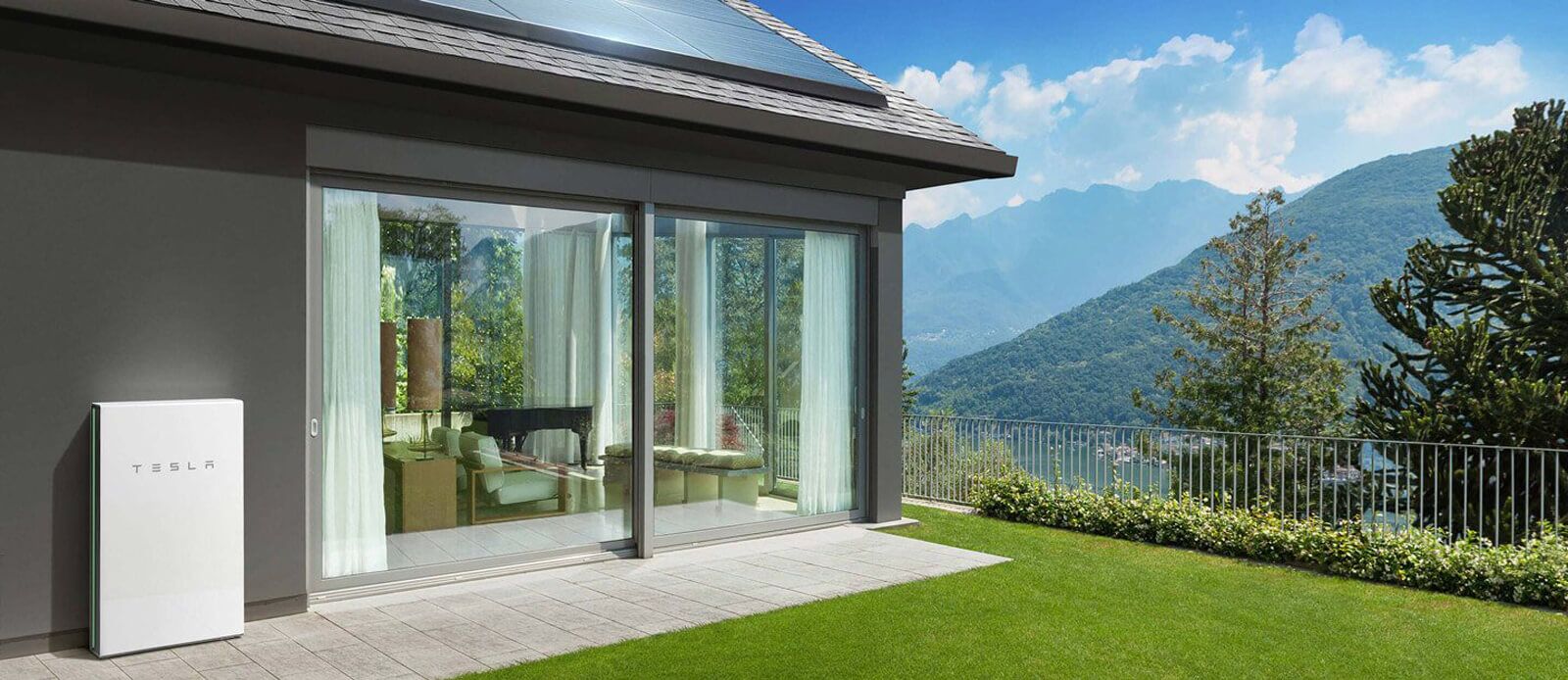 Tesla Powerwall Capacity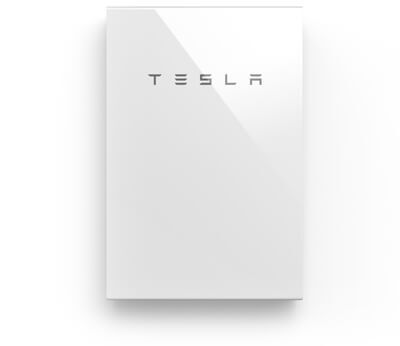 The Powerwall 2 also packs a considerable punch for its size.
It is 1,150 mm tall, 753 mm wide, and 147 mm deep. Weight is 114 kg.
But inside that relatively small form factor comes a lot of storage capacity. It holds 13.5 kWh of electricity, when fully charged.
You can stack up to 10 Powerwalls, one in front of the other, for a mind-blowing total possible storage capacity of 135 kWh.
The Tesla Powerwall cost in the UK, supplied and installed, can be found in the section below.
It's good value in terms of price per kWh of storage, even though the overall price including installation can seem daunting.
When the Powerwall 3 arrives in the UK, it will be shorter, narrower and thicker than the Powerwall 2. It will also be heavier. But the storage capacity will be the same: 13.5 kWh.

Power in a Power-cut
In March 2019, Tesla released the 'Backup Gateway 2' which allows you to use the electricity stored in your Powerwall in the event of a power-cut.
Of course you might argue, "I never get power-cuts!" For many people that will be true. However, there are also many locations in the UK where power-cuts are surprisingly common. If that's true for you, read on…
With a Backup Gateway, you gain two major advantages if there is a power-cut:
You can power devices in your home, using electricity stored in your Powerwall, and
If you have solar panels, they will continue to work, providing electricity both to your home and your Powerwall.
Point 2 is really important. Solar inverters have to – by law – turn off if there is a power-cut, otherwise the electricity from your panels might electrocute an engineer working to repair the line.
However, the Backup Gateway gets round this problem. It completely isolates your house from the grid. In this way, the Backup Gateway makes your solar inverter think it is still connected to the grid, and so it carries on working.
In addition, Backup Gateway 2 for Tesla Powerwall provides you with energy management and monitoring for solar electricity self-consumption, plus time-based control. All this is managed via the Tesla app.
The Backup function kicks in very quickly in a power outage. In fact, you may not even notice there is a power-cut at all. The first clue you'll get that there is no electricity in the area is when your neighbours come round asking why your lights are still on!
The Gateway can provide up to 5 kW of continuous power, with a peak rating of 7 kW.
The big game-changer for emergency power is that the Powerwall 3 – when it comes out in the UK – will be able to deliver up to 11.5 kW of power rather than just 5 kW with the Powerwall 2. This means it can either power more devices simultaneously or single very high-draw devices on their own.

Certified Installers
To get a top-notch installation, make sure your installer is officially designated by Tesla as a 'certified installer'.
Certified installers have had to jump through hoops to obtain certified installer status. They have been vetted by Tesla and take part in various, on-going training and support activities.
Installation standards for Tesla Powerwall certified installers are monitored very carefully. Tesla send round inspectors from time to time to ensure installations are perfect.
Tesla has set the bar very high when it comes to keeping its customers happy.

How is the Powerwall 2 wired up in your home?
At least two people will turn up on installation day, as the Powerwall is very heavy.
Here is a typical installation process for the Powerwall:
The Powerwall box is taken out of the delivery van and moved gently to the base of the wall where it will be installed.
One of the electricians then screws a mounting bracket from the box into the wall.
Next, the Powerwall is carefully placed upright onto a hoist.
The Powerwall is lifted up and then eased back down onto the mounting bracket.
At this point the Powerwall is hanging nicely on your wall.
Then your Backup Gateway – the brains of the system – is mounted on the wall. This might be near the Powerwall or near your electricity import meter.
The Gateway is connected to your main fuse board.
Next, the Powerwall is connected to the Gateway.
It's also possible for your solar panel system to be wired into the Gateway.
Then CT clamps are placed in appropriate places so that the Gateway can monitor all essential energy flows in the home.
There will also be isolators put in at various points for safety.
The Gatweway can communicate with your home router via Wi-Fi, though a wired ethernet connection is also recommended.
The electrician then commissions the system and you're ready to go.

Tesla Powerwall Price
Although the headline Tesla Powerwall price can seem high, it's actually not bad value for money in terms of cost per kWh of storage.
The typical cost of the Powerwall 2 in the UK, supplied and installed, is about £9,000 + VAT. That is for both the Powerwall battery itself, plus the new Backup Gateway mentioned above.
Battery installations in the UK generally attract VAT at 20%. So the total cost to the residential purchaser would be £10,800 inc. VAT @ 20%.
Please note: after the new VAT laws introduced on 1 April 2022, if a home battery is installed at the same time as a solar PV system, you can secure VAT @ 0% on the Powerwall (as well as on the solar installation). That would bring the price back down to £9,000 inc. VAT @ 0%. You'd need to get both the solar and battery installed by the same local installation company to benefit from 0% VAT on the whole lot.
How much will the Powerwall 3 cost? No-one knows yet what the price will be. However, we can do some guess work. The integrated hybrid inverter will add cost. If Tesla moves to Lithium Iron Phosphate chemistry that should reduce cost.
Our guess is that the overall cost of the Powerwall 3 will be a bit higher at launch, but that the Powerwall 2 will continue to be available at a lower cost while it's still available.

Tesla Powerwall – who is it for?
The Tesla Powerwall 2 is a premium product. There are cheaper home battery products out there, with lower storage capacity, but few as good value as the Powerwall.
Typical buyers include:
Tesla car owners with solar panels (if you own a Model 3, Model S, Model X or Model Y – what are you waiting for?)
Other brand EV car owners with solar panels
People who want to make use of smart tariffs
Customers who want an aesthetically pleasing, all in one product
Home owners who would like to mount the battery outside
Customers who suffer from power-cuts
People without solar panels who want to charge the Powerwall with cheap, off-peak electricity at night and let it out during the day when prices are high
Tech geeks who want to monitor all the energy flows via the Tesla app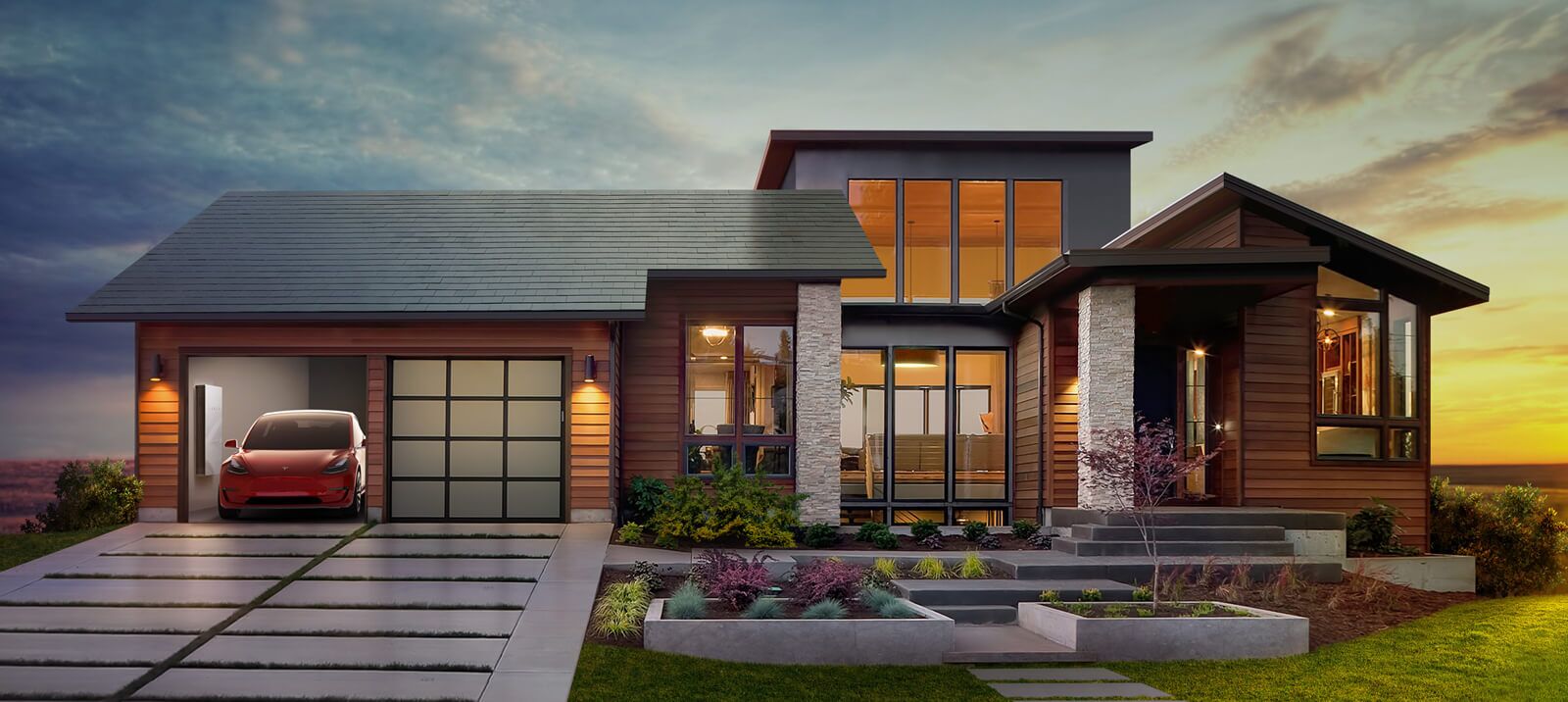 VIDEO REVIEW
Powerwall
> Tesla
Interviewed: Robert Llewellyn
Organisation: Tesla
Date published: 10 September 2017
Length: 1 minutes 39 seconds

Product Specifications
Here are all the data you need to evaluate the Tesla Powerwall 2.
The prices below include the Backup Gateway 2, allowing you to access electricity stored in your Powerwall in a power-cut.
Storage capacity (usable)
Power rating – Continuous (max.)
Charge and discharge – 3.68 kW (default) or 5 kW (with grid permission)
1,150 mm tall, 753 mm wide, and 147 mm deep
IP67 (battery & power electronics), IP56 (wiring compartment)
20% degradation at 10 years
Solar electricity capture and discharge, Off-peak grid electricity capture and discharge
Typical cost ex. VAT, fully installed
Typical cost inc. VAT, fully installed
Typical price per kWh of storage