A Tesla Supercharger charges your Tesla EV really quickly
The Tesla Supercharger UK network is a vital part of Tesla's electric car success.
There are currently over 20,000 Tesla Superchargers around the world, located at 2,000+ charging stations.
This means practically whichever country you're driving in, you can charge your car when out and about.

What is a Tesla Supercharger?
It's a rapid charging point for all Tesla electric car models.
A Tesla Supercharger can charge your car very quickly. This is because it has a high charging rate of at least 120 kW.
Most rapid chargers in the UK are around the 50 kW mark, so the Tesla Supercharger is more than twice as fast.
In fact, the current Version 2, or V2, superchargers can now charge your Tesla at an even higher rate of 150 kW. This higher rate is being made available to Teslas via over-the-air software upgrades.
Tesla is also starting to roll out even faster V3 superchargers that are rated at up to 250 kW. This is to keep up with the competition that is already installing – or planning to install soon – ultra fast chargers. For example, Ionity has already installed about 400 of its 350 kW charging stations, with many more to come in Europe in 2021.
On V3 superchargers, the Model S and the Model X will be able to charge at 200 kW, whereas the newer tech Model 3 will enjoy the full 250 kW charging (Long Range and Performance versions only).
The Supercharger uses a modified Type 2 connector, although the latest Tesla charging stations have both a Type 2 connector and a CCS connector. This is because the Model 3 – and probably all future Tesla models in the UK like the Model Y – will come with a CCS charging socket as standard.

Tesla Charging Stations
A group of Tesla Superchargers together is called a Charging Station.
Tesla Charging Stations can be found all over the UK and more are being built all the time.
You will often see a line of Tesla EVs at motorway services. They will all be plugged into superchargers at a dedicated Tesla charging station.
Tesla owners have an app on their phone which automatically alerts them when their car has been charged. This allows you to drink your coffee in peace, without having to nip out to the car all the time.

Tesla Supercharger Locations
There is a growing network of Tesla Supercharger locations in the UK.
When you input your destination in the Tesla's sat nav, the Trip Planner will show you where all the Tesla supercharger locations are along the route. For your particular trip, the sat nav will also tell you where you need to stop to charge, and for how long. No need for you to make complex calculations – just enter the destination and drive.
You can also use Zap Map which monitors and reports on the status of all UK Tesla Supercharger locations. New apps are popping up all the time to help you locate your nearest charging point.

Tesla Charging Cost
How much you pay at a Tesla Supercharger depends on which Tesla model you have and when you bought it.
The way in which Tesla charging costs vary is as follows:
Model S
If your Model S was ordered before 16 January 2017, then you can charge your car at Tesla Superchargers for free.
There is no membership or Tesla charging cost – it's free.
If your Model S was ordered after 15 January 2017, Tesla has a different system. You receive 400 kWh of free charging per year at superchargers. That equates to about 1,000 miles of driving.
If you go over 400 kWh of charging using the supercharger network, Tesla will charge you 24p for every additional kWh you use.
So your actual Tesla charging cost for a newer Model S will go up, the more miles you drive.
Model X
The Tesla charging cost for a Model X is the same as for the Model S.
Older models enjoy free charging at Tesla charging stations. A newer Model X will come with 400 kWh free at Tesla superchargers. Thereafter, it's 24p per kWh.
Model 3
The Tesla Model 3 – now available in the UK – has a different regime.
There is no free 400 kWh supercharging bundle with the Model 3. You simply pay 24p per kWh for any electricity you consume at a supercharger.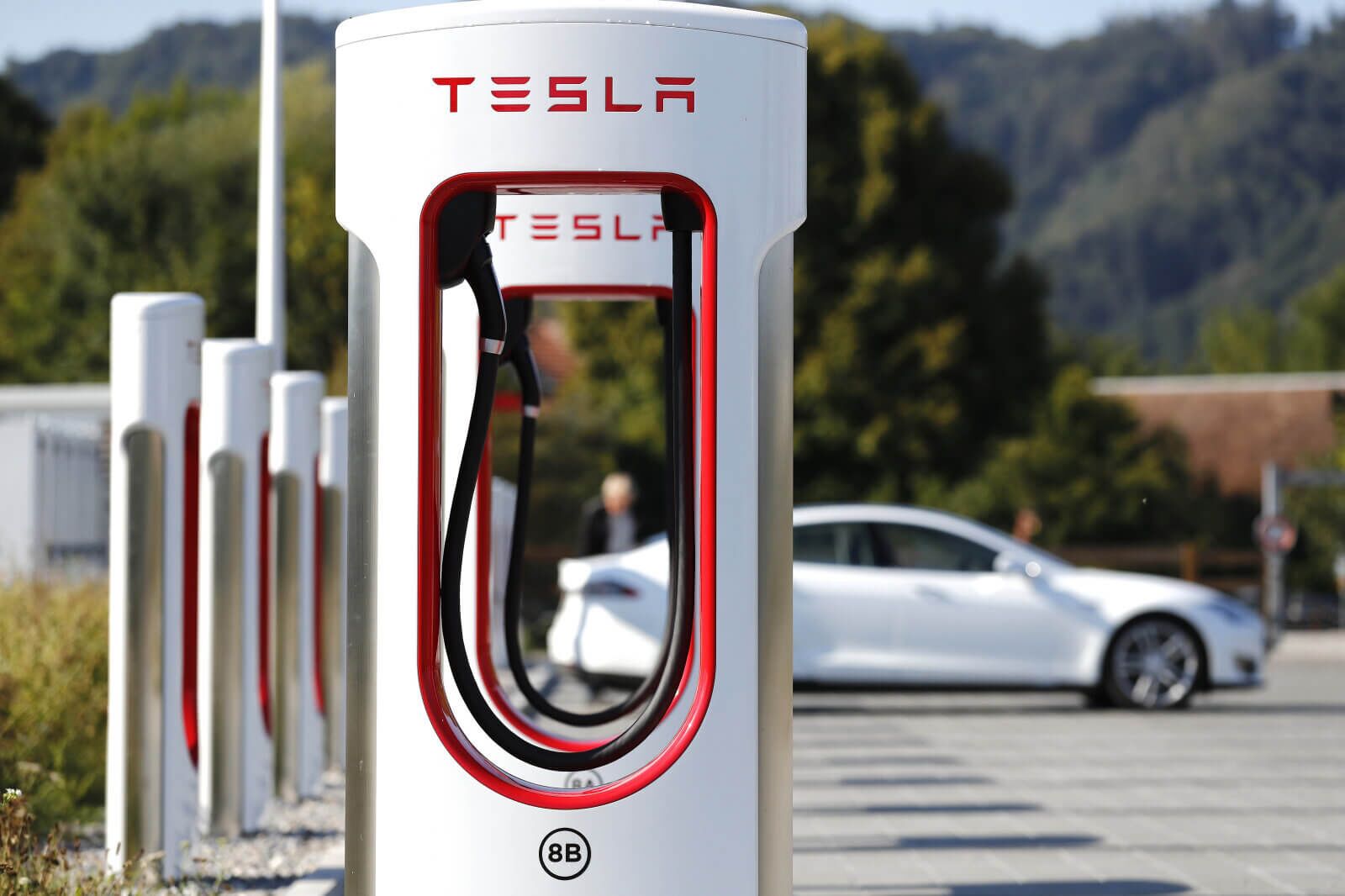 Tesla Destination Charging
As you drive your Tesla electric car around the UK, you will also find Tesla chargers at hotels, restaurants, and shopping centres.
By and large, these are not 120+ kW superchargers. Instead, it's known as Tesla Destination Charging and the charging points are rated at up to 22 kW.
Your car's battery will charge more slowly at 22 kW, but these Tesla destination charging points are designed for visitors who are likely to spend longer parked.
For example, it might be an overnight charge while staying at a hotel or a couple of hours having a nice, leisurely lunch.
Tesla destination charging is generally free, as long as you are a customer of the location you are parked at.