The Tesla Model X is a fully electric SUV to die for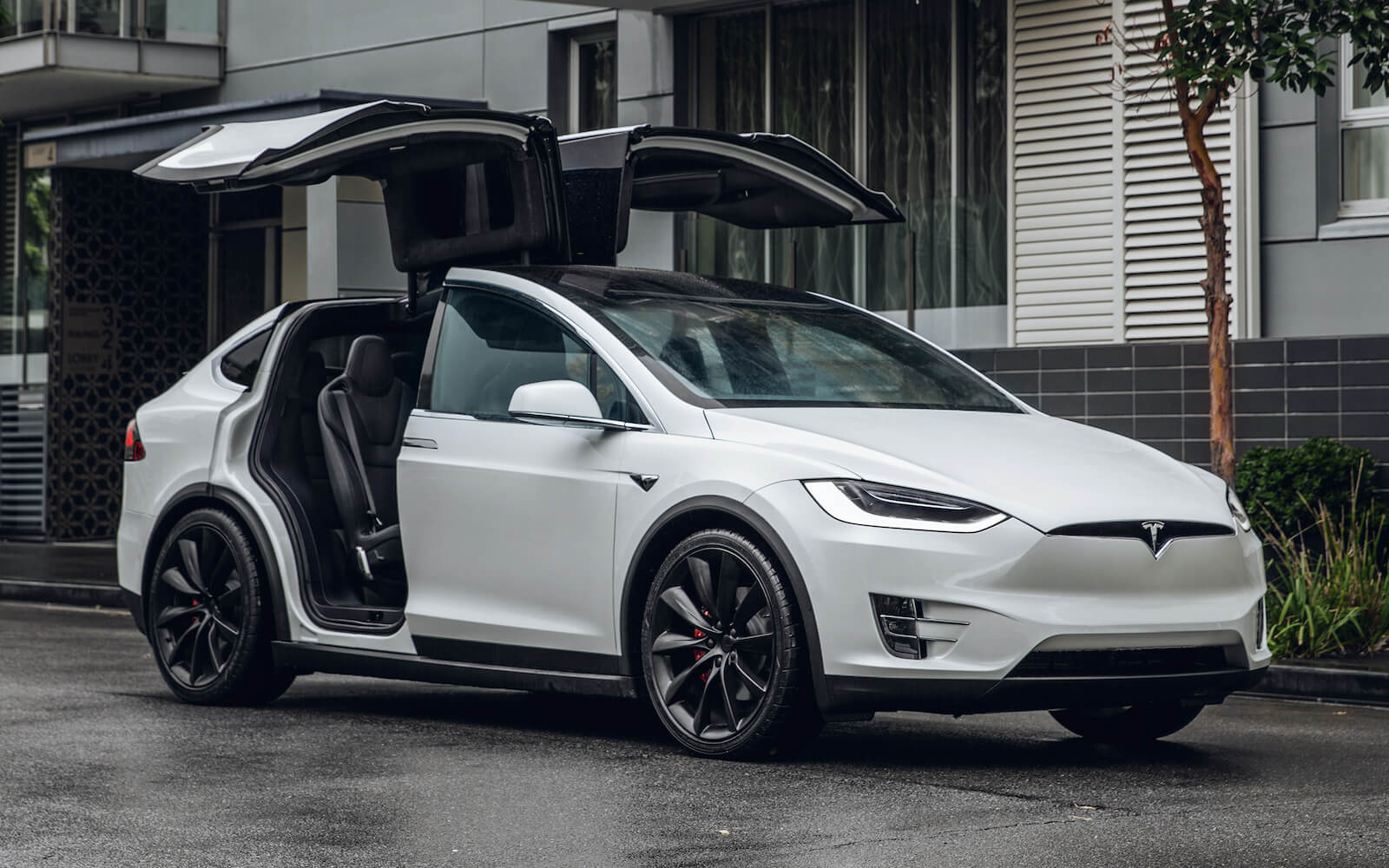 Tesla Model X Review
The Tesla Model X is Tesla's second mass produced electric car after the Model S.
It's a 4×4 SUV and you can order it as either a 5, 6, or 7-seater.
The Tesla Model X has outrageous falcon wing doors which will really impress your neighbours. It's also incredibly quick and very safe. The Tesla X is unlike anything else out there. Unfortunately, availability of the latest model is limited in 2022.
Positives
Excellent range and performance
Surprisingly spacious
150-250 kW supercharger network
Future-proof via software updates
Autopilot driving assistance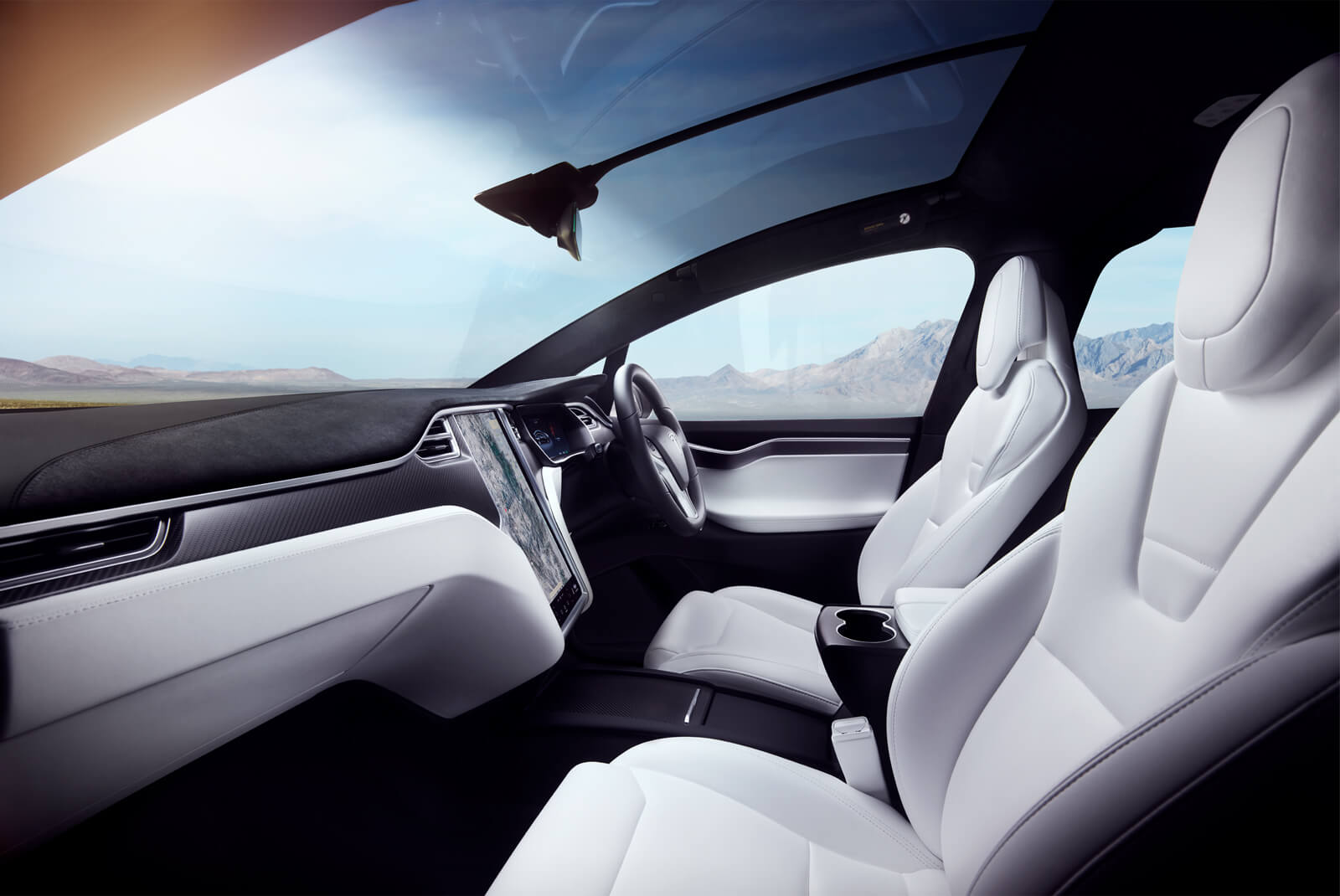 Tesla Model X Range
The Model X comes in two configurations:
The Long Range Model X – with a 90 kWh battery (useable capacity) – can go about 285 miles on average (real world range) before it needs charging. Official WLTP range is 348 miles.
Of all the electric cars on the market today, only the Long Range, Plaid and Performance versions of the Model S and Model 3 and the Extended Range variants of the Ford Mustang Mach-E can go further.
The Model X Plaid version has a slightly reduced range of 273 miles (333 miles WLTP) compared to the Long Range Model X, but it makes up for it with acceleration. 0-60 mph is a phenomenal 2.5 seconds. This is known as 'Ludicrous Mode'.
There used to be a cheaper Standard Range version, but this model has been discontinued.
Please note: Tesla have a habit of changing the specification of the Tesla X – and the pricing – often quite dramatically from one day to the next. The Standard Range Model X may well make a comeback.

Tesla Model X Price UK
Here are the prices of the two versions:
Long Range: from £102,980
Performance: from £110,980
These are serious prices and only within range of buyers with plenty of purchasing power.
If you consider 'value for money' as how many miles of range you get for each Pound you spent buying the car, you will be disappointed. There are cars that will travel as far, for less than half the price.
However, if you lust after the unique experience the Model X represents – and need more than 5 seats – then you will find value for money despite the price.
What else could you get in the £100,000 to £115,000 price bracket? These are the options:
Mercedes-Benz EQS from £105,610
Audi e-tron and e-tron Sportback: various models from £0
Tesla Model X, Long Range: from £102,980
Porsche Taycan: various models from £0
BMW i7 from £110,545
Tesla Model X, Plaid: from £110,980
The other rivals of the Model X in terms of body shape are the Jaguar I-Pace and the Mercedes EQC. These are the prices of base models:
Jaguar I-Pace: from £0
Mercedes EQC: from £0
Audi e-tron 55: from £0
Tesla Model X, Long Range: from £102,980
Tesla Model X, Plaid: from £110,980
Now, it's worth remembering that these base models won't be delivering all the capabilities of the unique Model X. However, it does go to show the range of pricing that is on offer in today's increasingly more competitive EV market.
If you do opt for the Model X, consider a low-cost leasing company like Select Car Leasing to keep monthly payments as low as possible. The headline on-the-road Tesla X price can seem daunting. The monthly lease payment is usually more palatable.

Tesla Model X Key Specifications
Tesla Model X
Cost
Real range
0-60 mph
Top Speed
Drive
Weight
Length
Boot size
Long Range
£102,980
313 miles
4.4 seconds
155 mph
AWD
2492 kg
5037 mm
2492 litres
Plaid
£110,980
306 miles
2.6 seconds
163 mph
AWD
2509 kg
5037 mm
2492 litres

Tesla Model X Autopilot
Tesla has created an amazing 'self-driving' feature for the Model X called Autopilot. You can find it on the Model S and Model 3 as well.
It lets you sit in your Tesla, in the driving seat, and have the car drive you. You can be on a motorway and the car will automatically steer, brake if required, and accelerate back to a pre-determined speed when enough space opens up in front of you. This configuration of the self-driving software is called simply Autopilot and is included in the prices above.
The more complete version of the software is called Full Self Driving Capability. This variation can also change lane for you, overtake, and put you back in the lane you were in – all with no input from the 'driver' at all. Tesla has spent years developing the software and it really is remarkable. Full Self Driving Capability costs £6,800 extra.
Autopilot with Full Self Driving Capability also gives you:
Autopark: the car will park itself
Summon: your already parked car will come and find you in the car park – oh yes it will
Please note: you must – by law – have your hands on the wheel at all times while driving. Autopilot reminds you of this if it senses your hands are off the wheel.

Tesla Model X Optional Extras
The Model X comes with lots of great equipment as standard.
As with all car manufacturers, you can configure your EV, choosing optional extras (at a cost), tailoring it as you so desire. Here are the options you can select:
Exterior Colour
The standard (no cost) option is Pearl White Multi-Coat. You can also have Solid Black (£1,450 extra), Midnight Silver Metallic (also £1,450 extra), Deep Blue Metallic (again £1,450 extra), or Red Multi-Coat (£2,500 extra).
Wheels
All the models come as standard with 20'' Silver Wheels.
For the ultimate 22″ Onyx Black Wheels, it's an eye-watering £5,400 more to pay
Interior Colouring
Long Range Model
The standard colour is 'All Black' and known as 'Figured Ash Wood Décor'.
For £1,450 extra, you get 'Black and White' with 'Dark Ash Wood Décor'.
Or, also for £1,450 extra, you can have 'Cream' with 'Oak Wood Décor'.
Plaid Model
The Plaid Model X does it slightly differently:
All Black 'Carbon Fiber Décor' is standard.
Black and White 'Carbon Fiber Décor' is an extra £1,450.
Finally, 'Cream' with 'Oak Wood Décor' is also £1,450 more.
Interior Seating Layout
As standard, the Tesla X comes with 5 seats.
However, you can also ask for a 6-seat configuration: 2 front seats, 2 middle seats, and 2 rear seats. That costs £6,300 extra.
Finally, there is also a 7-seat version for £3,400 more. Please note: 7 seats are cheaper than 6 with Tesla – work that out if you can!
Autopilot & Full Self-Driving Capability
As mentioned above, the Model X comes with Autopilot self-driving capabilities as standard.
To get Full Self-Driving Capability – really advanced autonomous driving – you need to pay £6,800 more.

Tesla Model X Falcon Wings
A spectacular, unique feature of the Model X are the Falcon Wing doors.
The first time you see these in operation, you think you've entered the set of a science fiction film. They ascend gracefully, allowing full access to the middle and rear row of seats.
The Falcon Wing doors move out of the way so successfully, that you end up with a very large opening into the car, with no door frames or glass to bump into.
If you park with cars on either side, the Falcon Wings can still rise up without banging into anything. The engineering is very well thought out.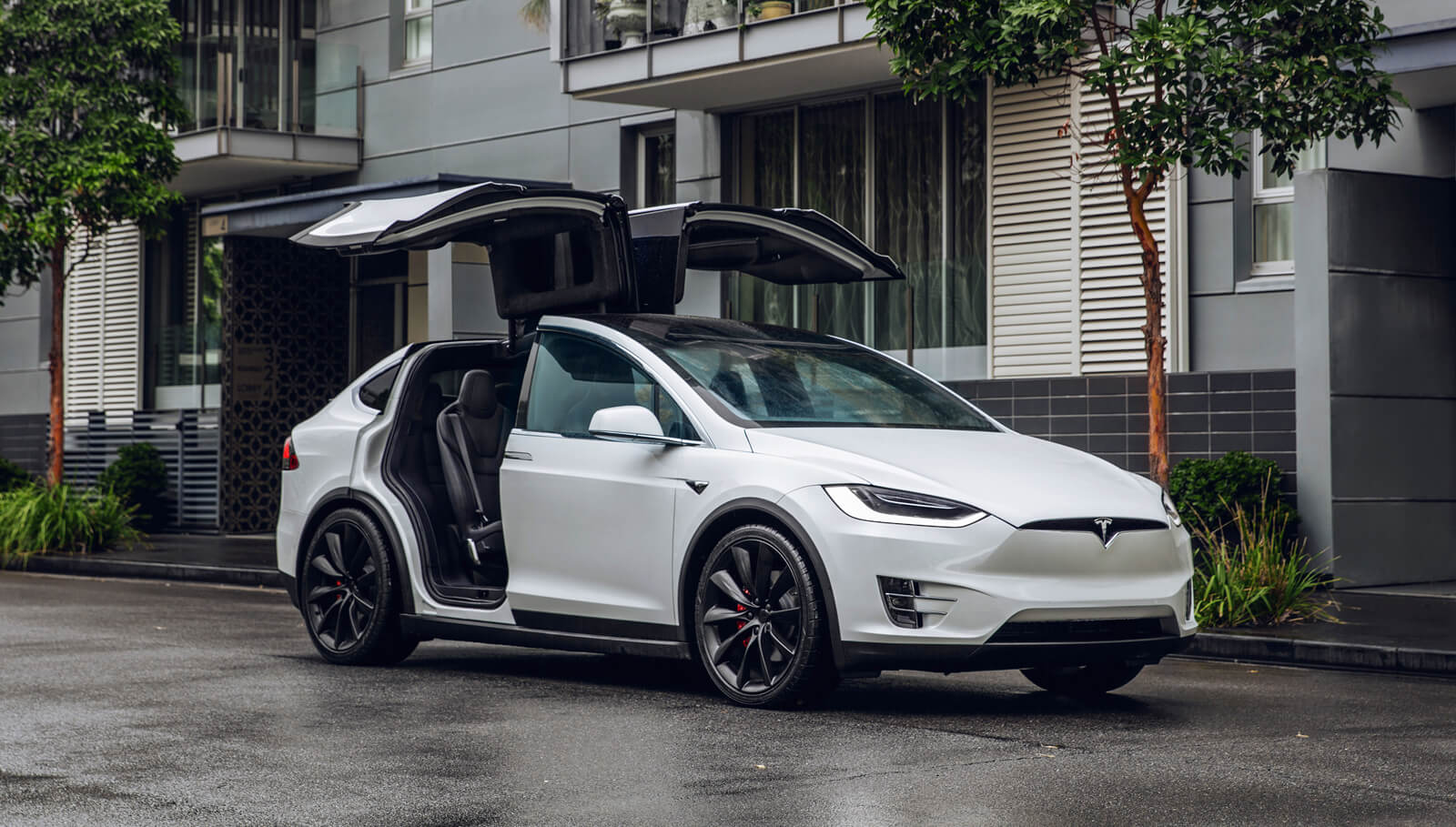 Who is the Tesla Model X for?
The Tesla Model X can be configured with 5, 6 or 7 seats, has lots of room inside, and enjoys all-wheel drive.
It's at the luxury end of the market and expensive. But, the Model X is the polar opposite of a polluting ICE car such as a Range Rover. It may be high cost and a status symbol, like the Range Rover, but the Model X oozes a very different message. It's green, quiet, zero carbon, modern, and much less in your face than the rattling, diesel 4x4s of yesteryear.
The Model X is becoming very popular in the corporate world. It impresses customers, it's cheap to run, and suggests the company you work for is taking its environmental responsibilities seriously. In the UK, electric cars also enjoy very low Benefit in Kind (BiK) rates. For example, in the 2021/22 tax year, a Model X has a BiK tax rate of 1% (2% the year after).
Given the space inside and the fairly high driving position, it is also a great family car. It has room for 5, 6 or 7 people, depending on the version you buy. The back row can even accommodate adults. With all-wheel drive, the Model X can get you out of a muddy field. If the Tesla Model X UK price doesn't send shivers down your spine, you know what to do…
Tesla has installed an amazing network of very rapid charging stations around the UK and abroad. These so-called superchargers are now rated at a minimum of 150 kW. They allow you to charge your battery very quickly while you are taking a break and then continue on your journey. New Version 3 chargers are also being rolled out, permitting charging at up to 250 kW in the Model X.
If you're considering a second-hand Tesla Model X, you'll come across different battery sizes, such as 60, 70, 75, and 90 kWh. Buying second-hand is a way of permitting mere mortals to access the Tesla experience.
Next Steps
If you would like more information about EVs in general, please see our main Electric Cars page.
For specific details about the Tesla Model X itself, see the main Tesla UK Tesla Model X website.
Otherwise, please scroll down to the Reviews section below for independent analyses.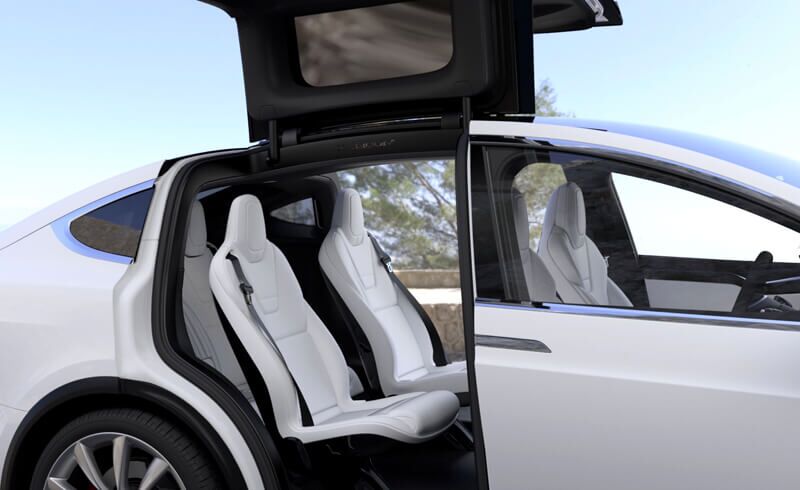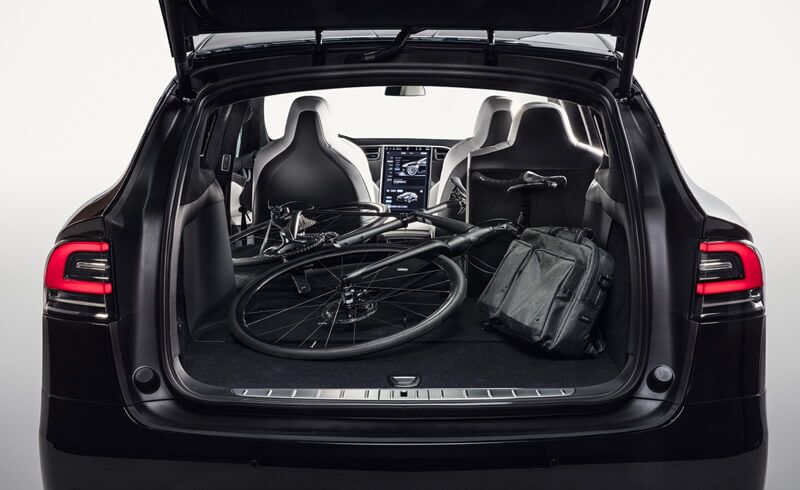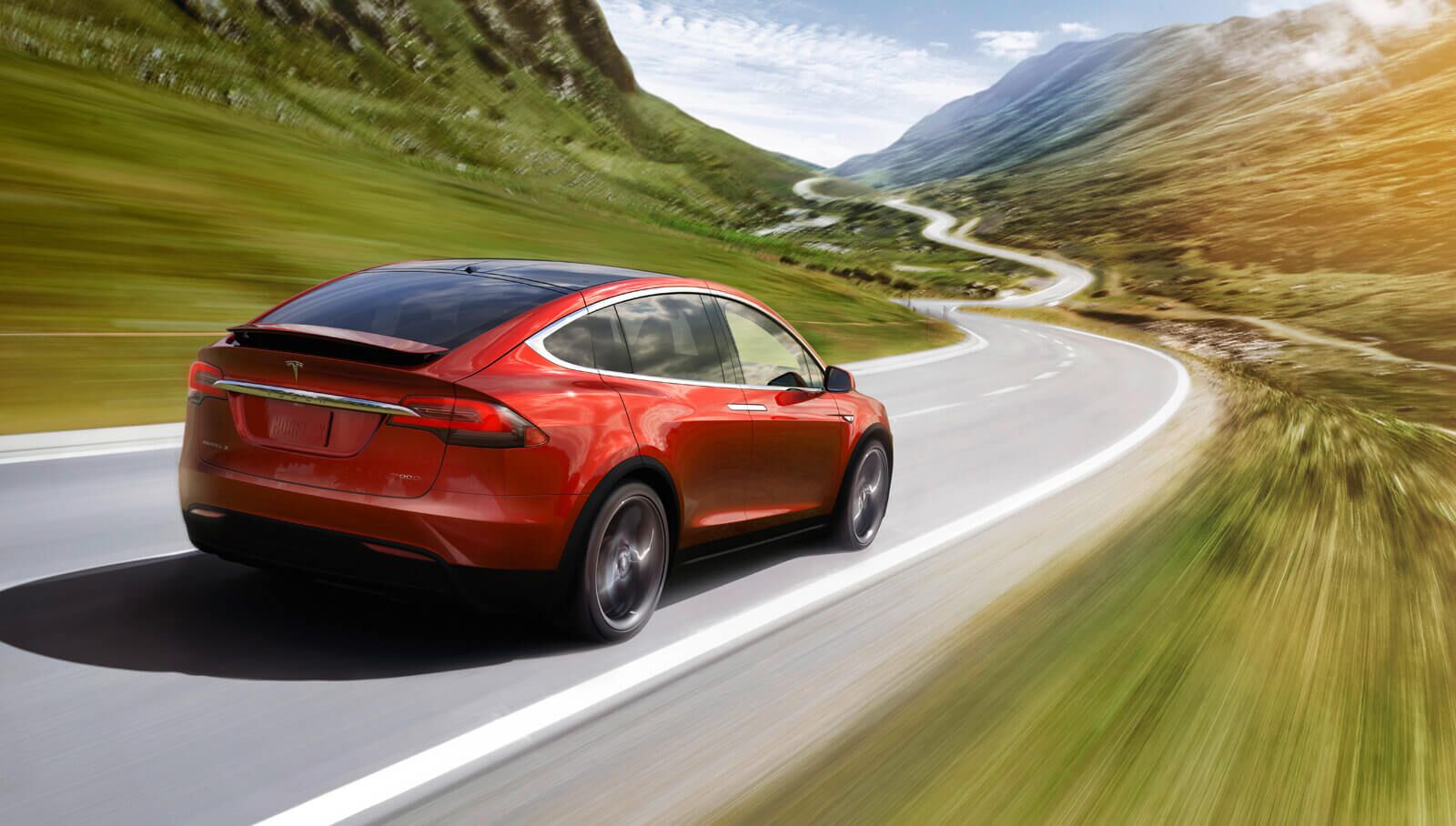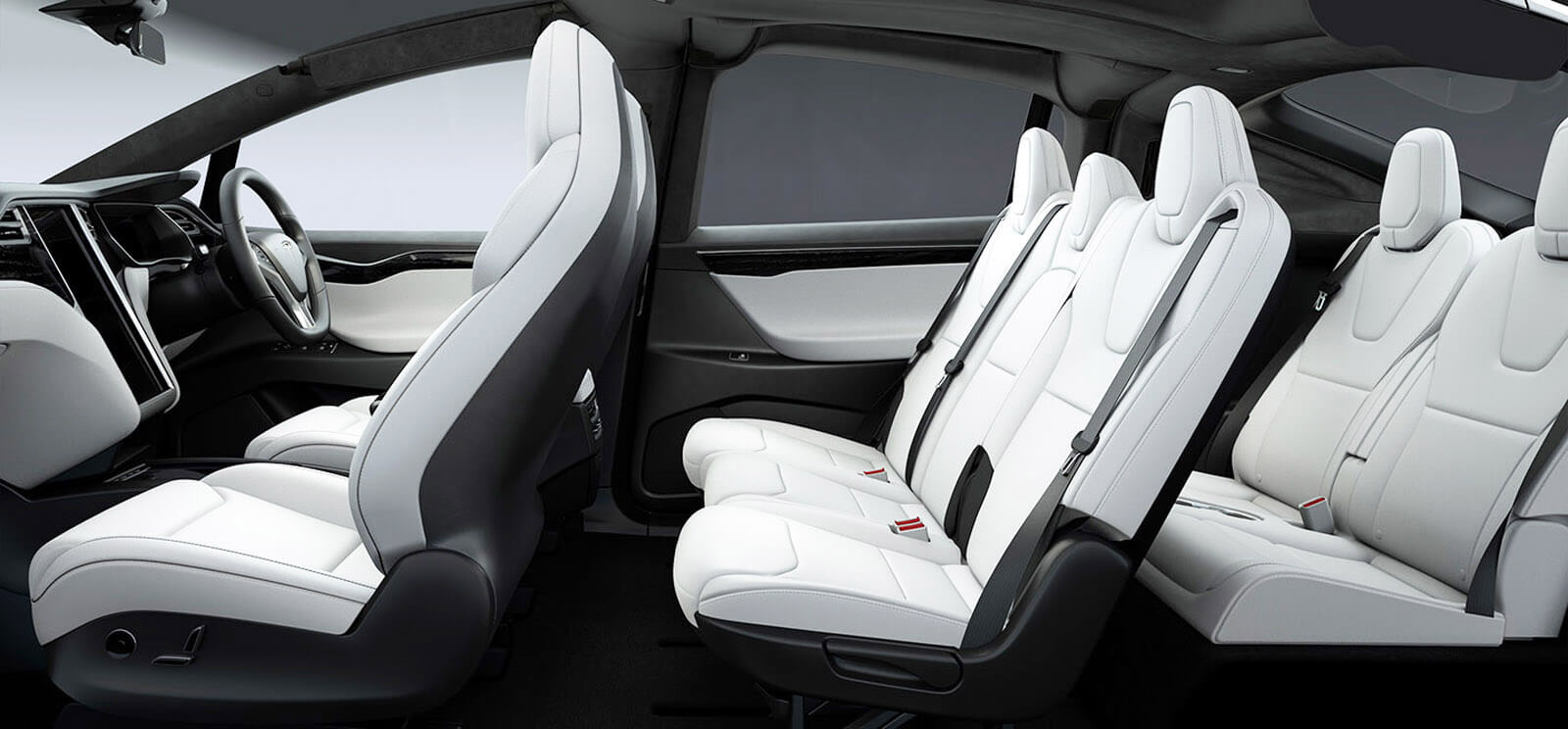 Tesla Model X Reviews
We have gone round the internet and brought the best video and text reviews to you here in one place.
Click on the links below for reviews of the Tesla Model X from well-known car reviewers:
VIDEO REVIEW
Tesla Model X 90D
> Fully Charged Live
Reviewer: Robert Llewellyn
Organisation: Fully Charged Live
Date published: 15 April2017
Length: 22 minutes 16 seconds
VIDEO REVIEW
Tesla Model X 100D
> Carwow
Reviewer:Mat Watson
Organisation: Carwow
Date published: 11 August 2017
Length: 10 minutes 4 seconds